Sooo many things happend since February ... Impossible to list all shows and adventures we had. But I would like to mention a few highlights: 
We had a wonderful guest during spring. Almanza Back On Red Carped has joined our team for a while and we had an amazing time together. While staying with us, "Pepsi" won BEST IN SHOW at DOG SHOW PROJECT 2018, BEST OF BREED & BEST IN GROUP at CACIB Mulhouse, BOB & ENCI WINNER-18 title at the prestigious ENCI-Winner Show in Italy, 2x resCC in the UK, 2x BEST LIVER IN SHOW in the UK as well as numerous CAC's in different countries. It was pure pleasure to have her here and we all miss her terribly <3 
"Tian" - Almanza Secret of Success this boy continues to make us proud! At Crufts he won res (nr.4) in a huge yearling class, at the Flatcoated Retriever Society Show in England he was second in open which gave him his STUDBOOK NUMBER and therefor he is LIFTETIME QUALIFIED for CRUFTS! Tian won all thee CAC's at the ENCI Winner Show in Italy, so he is now ITALIAN CHAMPION. At his first and only show in Sweden he won his class with CK, became best male-3 and got the precious CERT- this makes him a SWEDISH SHOW CHAMPION as well! 
In Switzerland he won BEST OF BREED and RESERVE BEST IN GROUP at the national show in Aarau, as well as BEST OF BREED and RESERVE BEST IN SHOW at the Clubshow of the Swiss Retriever Club. 
"Miles" - Almanza Get A Grip was lightly shown this year. He won several placings at shows in the UK, as well as CAC at the Swiss Retriever Clubshow and at the Retriever show in Payern. Miles joined us to the European Show in Poland where he was shortlisted in a big champion class.
I decided to not update every show here on the blog, but the boys have a new Show-Page each. There you can find all their show results.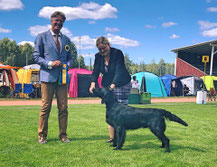 ---